Bruce Springsteen
Holiday Show
with The Max Wienberg 7
with friends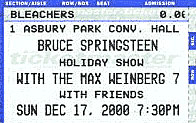 Bruce Springsteen, the Max Weinberg 7, the Redheaded Women, and the E Street Band, put on two holiday shows last December, the 17th and the 18th.
The impressive list of people on stage includes: Max Weinberg (drums), Ed Manion (saxophone), Jerry Vivino (saxophone, vocals), Mark Pender (trumpet, vocals), Richie Rosenberg (trombone, vocals), Scott Healy (keyboards), Mike Merritt (bass guitar), Jimmy Vivino (guitar, vocals), Garry Tallent (tuba, standing bass, bass guitar), Danny Federici (accordian, keyboards), Roy Bittan (piano), Steve Van Zandt (guitar, vocals), Nils Lofgren (guitar, vocals), Clarence Clemons (saxophone), Bruce Springsteen (piano, guitar, vocals), Patti Scialfa (guitar, vocals), Suzie Tyrell (violin, vocals), Lisa Lowell (vocals), Johnny Lyon (vocals), Bobby Bandiera (guitar, vocals), Jon Landau (guitar) and Mike Brenner of Marah for Santa background vocals.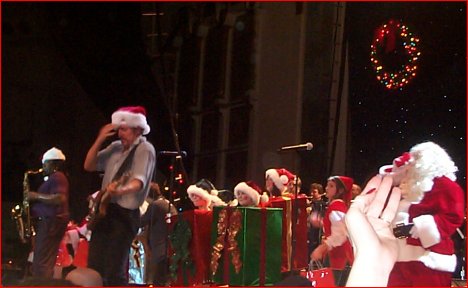 More photos from the show: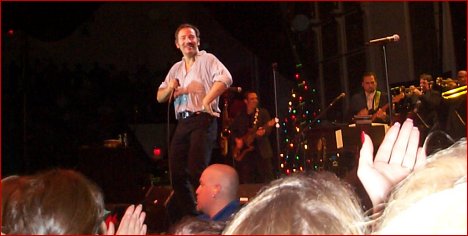 CDs of the show are available thanks to the efforts of many traders (ask for the CDs in the usual forums: rec.music.artist.springsteen, Stone Pony London, etc.). Please do not pay for these CDs, except to cover blanks and postage.
Setlist
Both shows shared the same setlist. The second show (December 18th) had a surprise soundcheck:
Jambalaya (On the Bayou)
Hey, Good Lookin'
Mystery Train

The main show(s):

Jingle Bells
For You
Blue Christmas
Jam Up
Run Run Rudolph
Luckytown
E Street Shuffle (Movin' On Up)
Kitty's Back
Rose
As Long As I Can Be With You
This Time It's For Real
Until the Good Is Gone
All I Needed Was You
Shine Silently
Merry Christmas Baby
So Young and In Love
Roll Of The Dice
Bobby Jean
Christmas, Baby Please Come Home
My City of Ruins (lyrics)
I Don't Wanna Go Home
Rosalita
Santa Claus is Comin' to Town